"One call... One Company"

SM
From the beginning (1992), C N' R has carefully grown from the ground up into a business that covers ALL your needs in Lawn Maintenance, Landscaping, and Snow Plowing. We say "One Call... One Company!"SM, and what we are referring to is that we do it ALL and think of it ALL during the process! We are a full service company using minimal, if any, sub-contractors. And if we have to use a sub-contractor, we will always be straight forward about it. We directly control the quality of the results; the same quality results our customers expect every time and for each and every service we deliver: "One Call... One Company!"SM
Here are some examples!
1. LAWN MAINTENANCE: How many firms do you have working for you to complete all your yearly maintenance to you property? You could have quite a number if you are not careful! Weekly mowing, spring & fall clean ups, fertilizing, core aeration, gutter cleaning, shrub pruning, etc. We can make the list go on forever and C N' R does it all. One phone number on your fridge, one call to make - "One Call... One Company!"SM C N' R has expertise in all the services listed above and more! - and we can provide service to everything outside your house that you require each season. Not only is one company doing it all, it is one statement to deal with at the end of the month. Less headaches...

2. LANDSCAPING: If you are looking to complete a major landscape project, it usually requires a lot more than just landscaping. What about your existing irrigation system? Or, maybe it is a good time to install an irrigation system while you are putting a lot of money into a beautiful new landscape design? Did these questions ever come to mind before thinking of starting your project? Whatever the case may be, while completing the landscape job, C N' R will re-route or install new irrigation as they do the job - one company for all the work! No sub-contractors. DO NOT get stuck with a beautiful new landscape forgetting that somebody or something needs to water it all! DO NOT get stuck destroying your current sprinkler system without thinking about re-routing it to the proper areas and going through the process of marking key sprinkler components even before starting the job. Last - what about the invoice? are you a current C N' R "lawn maintenance" customer where you are receiving monthly statements? Depending on the situation and the job, C N' R can just attach this new landscape invoice to your next monthly statement. It is as easy as that...

3. SNOW REMOVAL: C N' R Provides a full snow plowing outfit. We rarely sub-contract, and if we do, it is for a rare service needed during the middle of the winter. From snow plowing, to sidewalk shoveling, to sand/salt, to straight salt...we do it all. Commercial or Residential...again, we do it all! On top of all this, we even offer roof shoveling for your home during the winter season. One company doing it all. One company for our customers to remember when they need something. Everything made simple for our customers....
---
"One Call... One Company!"SM - Registered ServiceMark of C N' R Lawn N' Landscape Inc 8/26/10 State of MN.
---
| | |
| --- | --- |
| | Spring, Summer N' Fall |
Year-Round Services!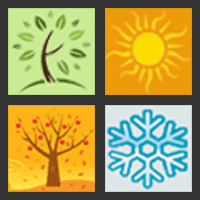 | | |
| --- | --- |
| | Spring |
---
| | |
| --- | --- |
| | Winter |
---