Landscaping Mulch
Service Information
WHAT A SELECTION!! C N' R offers mulch of many different colors and shapes!
We offer 3 general types of mulch, with different color varieties inside of those groups.
CN'R provides a full array of mulch services: mulch delivery, mulch refresh, replacing existing rock/mulch with new mulch, new landscaping features and huge landscaping projects that include mulch.

To assist with the mulch choices, C N' R has added the dollar sign price rating system! Prices range from 1 dollar sign for the least expensive: $ to 5 dollar signs for the most expensive: $$$$$

::: SAMPLES AVAILABLE UPON REQUEST! :::
Click on any of the photos below to go to a page dedicated to that mulch color!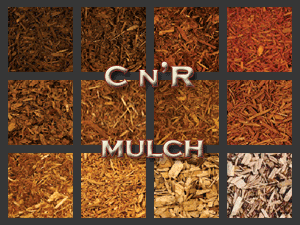 Scroll down the page to see the entire selection!
---
Natural Mulch
---
Dyed Mulch
---
Scrap Mulch
---
---