Decorative Rock
Service Information
C N' R LAWN N' LANDSCAPE HAS A GREAT SELECTION OF THE MOST POPULAR LANDSCAPING ROCK! Each of the rock types in our selection come in several sizes: from Class 5, through the most common sizes, up to big boulders!

To assist with the rock choices, C N' R has added the dollar sign price rating system! Prices range from 1 dollar sign for the least expensive: $ to 5 dollar signs for the most expensive: $$$$$

::: SAMPLES AVAILABLE UPON REQUEST! :::
Click on any of the rock photos below to go to a page dedicated to that rock type!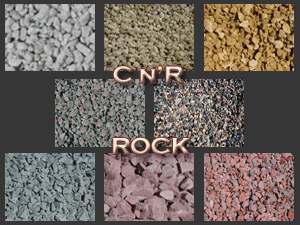 ---
Natural Mulch
---
---