---
Since childhood, Craig has had great interest in the weather. Severe Weather, trends, predictions and Winter weather. That interest has turned into a hobby on this page. Here you will find Craig's periodic 2-3 Month weather predictions along with his Winter Weather predictions!
You can follow Craig on Twitter via @bowechoF5
---
CRAIG'S WEATHER PREDICTION BLOG
CRAIG'S WINTER WEATHER PREDICTION BLOG (UPDATED 11/1/17):
Read Craig's winter discussion below first, then review his detailed WINTER PREDICTIONS HERE
LAST WINTER QUICK REVIEW:
The biggest item the correlates well with this year that happened last year is La Nina. Believe it or not, last winter season was technically a WEAK La Nina pattern. Why do I say believe it or not? Well, it was warmer, and much less snowfall last year when usually La Nina's bring colder winters and more frequent bouts of snow. This leads to the discussion about this year's prediction for ocean temperatures and what it usually means for our winter vs. what I think is going to happen.
EL NINO / LA NINA:
Ocean temperatures in the central/eastern Pacific are already near or a little below normal. Our current conditions right now are technically "Neutral" conditions, but as the Pacific continues to stay near or below normal for several months here, expect it to be announced as La Nina conditions and be the prevailing weather pattern for our winter season. La Nina (according to model solutions) is 55-65% favored to develop. Does that mean "for sure". Of course not. To be honest with you, through the spring and summer, I do not feel the model solutions for projected ocean temperatures have been all that good. Therefore confidence is kinda low right now of what models are printing out.
WHAT DOES CRAIG EXPECT TO DEVELOP?
First off, remember, we really talk about and care about ocean temperatures due to the fact that it affects our winter weather patterns. We also look at the Arctic Oscillation (AO) and what it is projected to do. Forecast accuracy is tough to come by (for long range forecast) on this important weather feature for each winter. When this vortex does weaken, that causes the cold air to spill out (spill south). Kind of like opening a refrigerator or freezer. That is the truth about it, and when that door opens or not through the winter is very tough to predict. You will hear people say that it is building and/or strengthening and going to move in before it moves in. Well, that actually is the opposite of what is really happening - what I elude to above about it weakening in a certain layer of the atmosphere to allow the cool air to spill southward. With all this said, I do expect a stronger La Nina this winter than projected, and a little more weakening of the vortex at times allowing for cold blasts to pass through - but shorter lived. NOAA is forecasting a WEAK La Nina winter season, I am predicting a more MODERATE La Nina winter season.
SO, CRAIG - WHAT DOES THIS ALL MEAN FOR OUR WINTER THIS YEAR?
Here in MN (Twin Cities area), I expect a whole bunch of normal. That means up and down swings in temps where it may get a bit above normal at times, and also get a little below normal at times. Any record breaking heat? I do not think so. Any record breaking cold? Doubt it, but more likely than record breaking heat. And with the temps bouncing back and forth on the grid, I do feel it will allow for enough moisture with different clashes of air masses to finally give us a normal winter where snow cover lasts. Will it be a ton of snow? Trends do favor a more snow than average more than a "below normal" snow season. Expect it in that 45-55" range. Maybe 40"? Maybe 60"?
OK, CRAIG - WAY TO FORECAST AVERAGES - HOW TOUGH IS THAT?
I am not forecasting a near average winter with temps and precip just to be safe. Two years ago, I predicted a very below normal snow forecast that was within 3" of accuracy. Last year, I did predicted a similar winter of what I am predicting this year, but going into last winter was a little different with more spreads of uncertainty. I think definitely we are in a higher probability this season to have average or a little below average temperatures. I am more confident with that. I am less confident on snow totals, although I do believe we will end up very average in the end. I was in the 50" range last season with my snow prediction, and I am once again in that range this winter. Temps last year I had predicted warmer than this year - and that was the uncertainty last year that led to a lot less snow than predicted. If my predictions of having an average winter with temperatures this winter holds true, my confidence rises with around 50" of snow - plain average.
NORMAL CONDITIONS THIS WINTER, EH? SO, BIG DEAL! ??
Why I think a normal winter is a big deal is because our last 3 winters have been warmer than normal, and also been a lot less snow than normal. So, throwing in a winter now that may be just a "normal" winter in MN may seem really cold and snowy to us because we are used to the past 3 weak winters. Just saying, I think there will be some unrealistic complaints about the temps and snow. Please know that is what is supposed to happen within MN winters!
FARMERS ALMANAC?
Seems to be on the same page this year with winter conditions in MN. As I said above, yes, cold blasts, and maybe some warmer periods, which is normal. Some snowy months, but less snowy months, but more consistent snow and snow cover this year than the past 3. Not tough to beat though. There should not be many complaints of lack of snow this season even though it will not be a blow out season of extreme snowfall.
NOAA'S OFFICIAL FORECAST?
I have posted 2 charts from NOAA below that you can review.
2017-2018 Winter Prediction
| | |
| --- | --- |
| | To see all the details of Craig's 2017-2018 winter forecast he made November 1st 2017; please *** CLICK HERE *** |
---
---
Craig's Weather Links
Collection of Craig's favorite weather sites:
Craig's Weather Apps
Found in your device Appstore:
Accuweather
Storm
Wunderground (Craig's Favorite!)
---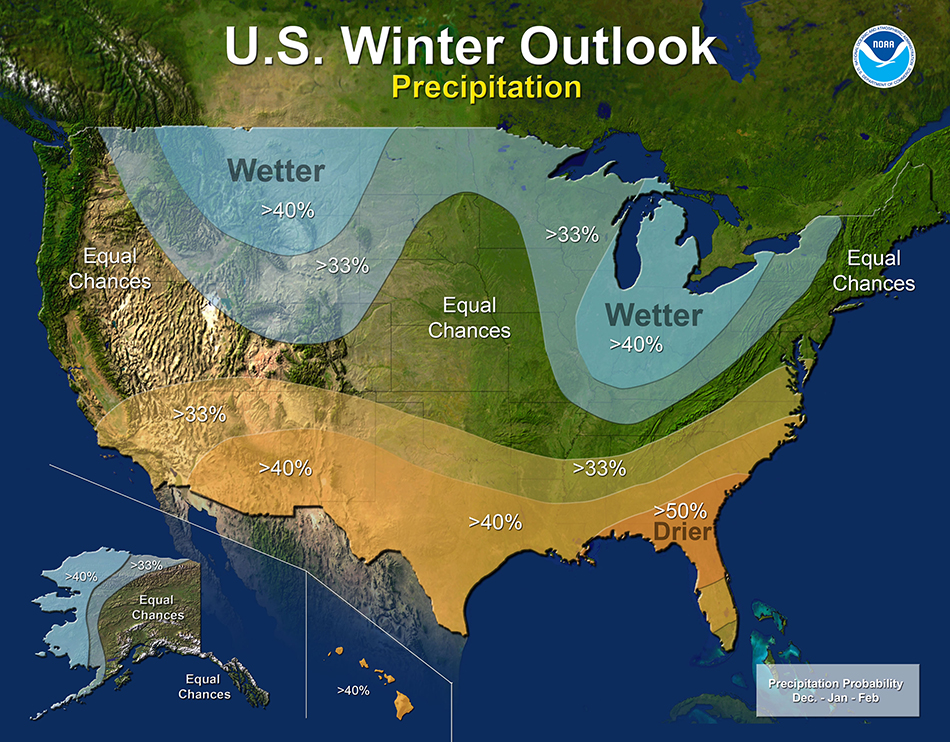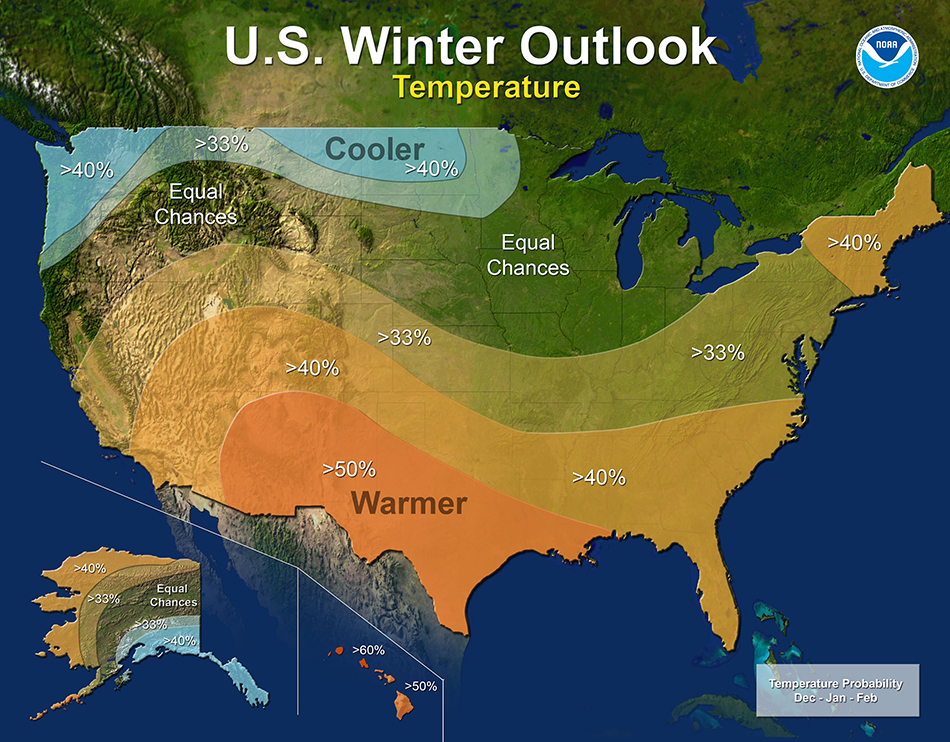 MOVING ON WITH A FEW STATS / INTERESTING NOTES?
- Already said this above, last year was our last "weak" La Nina - but the opposite of what is more likely to happen during a La Nina season happened.

- Last "moderate" La Nina? 2011-2012 where we had a whopping 22" of snow! Yes, La Nina's of the recent past obviously did not hold up to expectations.

- Besides last year, the previous "weak" La Nina was 2008-2009 where we received 45" of snow.

- Last "strong" La Nina was 2010-2011 = 86" of snow. And the last "strong" La Nina prior to 2010-2011 was 2007-2008 which made for 45" of snow.

- La Nina's seem to be getting less consistent.

- When we do receive measurable snowfalls in October (like we have had this fall), the winters after these Octobers are all over the board. There really is no consistency with any type of snow totals or temperatures. Tough to use anything as a stat here!

- The fact that we have had 30" of snow each of the 3 previous winters, does this mean anything?
- 1950's, had a period of 5 years in a row of 20-40" of snowfall
- 1940's, had a period of 6 years in a row of 25-40" of snowfall
- 1920's, had a period of 7 years in a row of 20-43" of snowfall

DOES THIS MEAN WE ARE DUE FOR A HEAVY SNOW WINTER AFTER 3 YEARS IN A ROW WITH 30" OF SNOW? … the stats don't lie above. With 3 years in a row of low snow totals right now, heading into year 4, the above stats prove that we can have crappy snow winters for 5-7 years in a row. It definitely happens!

SUMMARY:
Once again, please check out my detailed winter weather predictions RIGHT HERE! These are projected stats that I have come up including first plowable one inch snow, best snow pack months, coldest/warmest periods, biggest snow storm, are we going to have a white Christmas? And much more! Last but not least, what everyone wants to know. One number. What will the total snowfall be for this winter season Craig? Well, CLICK HERE TO FIND OUT!

**This blog was updated on November 1st, 2017. I expect to put out another update as we head towards the middle of winter to see where things are going.
Ready to read Craig's detailed
WINTER PREDICTIONS? Click Here!