Spring Irrigation Start-up
Service Information
SPRING IRRIGATION STARTUP is a complex process which C N'R takes to ensure irrigation systems are working correctly. The process includes checking proper coverage of the property, checking for leaks throughout the system, and setting the systems run times for the current weather conditions.
Service Photos
C N'R Lawn N' Landscape takes great pride in the quality of their work. These pictures display some of the process steps taken as part of the Spring startup process.
Click on any of the photos below to see a larger photo!
---
---
The first thing we do when we arrive is locate the "Back Flow" system. At that point, we find the plug and insert it so that the back flow is ready for us to turn on the water from the inside.
---
As the heads pop up while going through each zone, we go through each head one by one. We make sure the head is working properly with no leaks, and we make sure it is covering properly and make the proper adjustments. When we do find a bad head, we flag it to be dug up once we have gone through the entire system.
---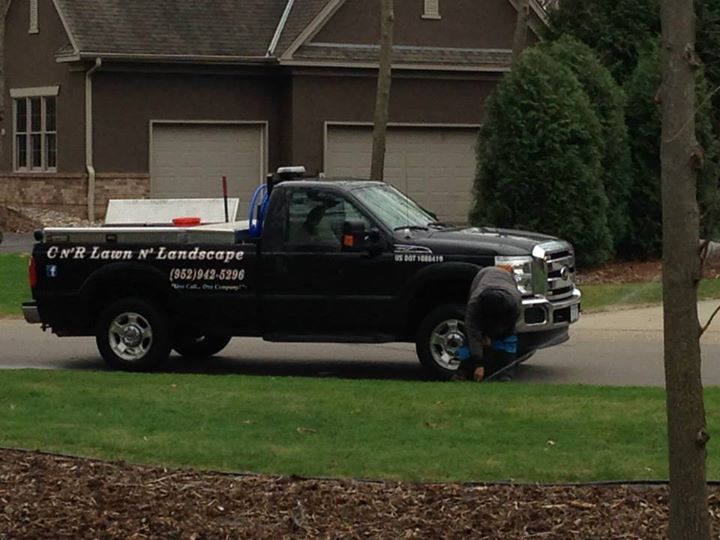 ---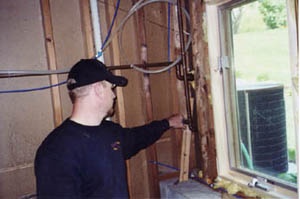 Once the water is on, then we turn on the back flow a certain way to test the seal to see if there is a leak, etc.
---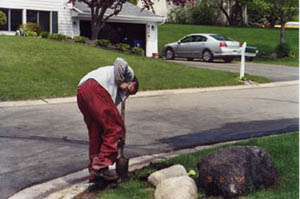 Once we have fully gone through each zone, we return to each flagged area and fix what needs to be fixed. The most common is replacing a head.
---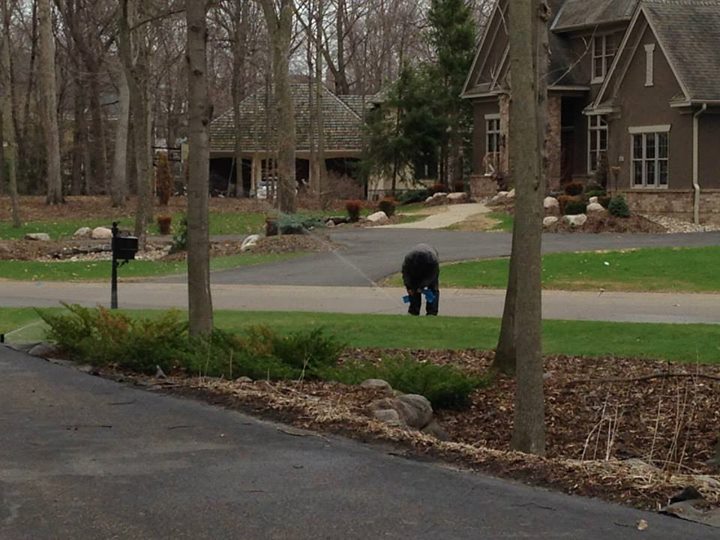 ---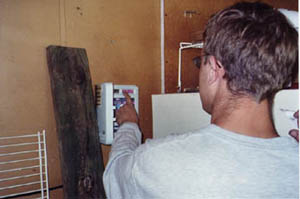 Now that the water is turned on and the back flow looks good, we then go to the control box for the system which is usually located in the garage. We plug it in, get it ready to go, and turn on zone 1. This is the start of our "walk through" of the system.
---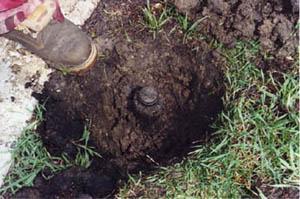 We dig around the head properly so when we unscrew the head to replace it, no soil falls into the opened end. It is not good for the system when you allow the soil to get into it. It can lead to other problems. If we make a mistake and allow soil to get into the system, at that point we stop and flush out the system.
---
Once we are totally completed with replacing everything that needs to be replaced, we set up your control box to water your lawn automatically. We set the zone times, the start times, etc. For all customers, we set the start time date to the current odd/even laws that are regulated. For instance: If the last digit of your address is an odd number, we set up your system to only water on odd days. NOTE: If your control box does not have an "odd/even" water day feature, then we set it up for every other day depending on if you are odd or even. Remember, at the end of certain months, you will need to change the every other day a bit because there can be two odd days in a row or vice versa. Example? July 31, then it goes to August 1. That is two odd days in a row and if you are set up to run every other day, now you will be watering on the even days.

REMEMBER: We most likely will set up your zone watering times for the current weather conditions we are experiencing at that certain time. It is the customer's responsibility to bump up or lower zone watering times as the season changes from dry periods to wet periods, cooler periods to hot periods, etc, etc.

There is plenty more that can be wrong with an irrigation system after a hard Minnesota winter. Pipe lines can break, valve seals can go bad or corrode, and even electrical problems can develop with the ground heaving. As we are checking all the sprinkler heads on the system, we are also looking for other problems like these mentioned. Keep in mind that slow leaks will likely NOT be found during the start up as these take days or weeks to detect. But, as always, we fix anything we find on the jobs site while we are already there - unless we find something more major where we need to come back to work on during a different day.
Click here to see the current suggested sprinkler settings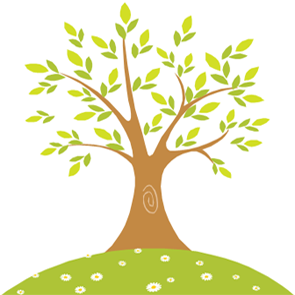 ---
---