Commercial Winter Summaries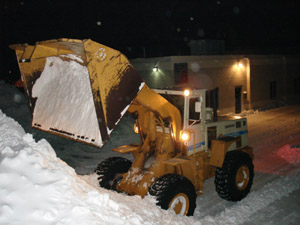 As we progress through our Minnesota Winter, C N' R will post snow removal summaries for residential properties in this location. Be sure to check back here often as the snow flies for snow plowing, sanding/salt and shoveling updates.
---
Residential property?
Please click here for commercial snow removal summaries
---
Recent Update -
Sunday, March 12th : 4.0"

A strong Alberta Clipper expectedly rolled in during the afternoon on Sunday (3/12). Right on schedule as the models were suggesting. It arrived at about 2-3pm in the afternoon, and all the noteworthy accumulations ended by about 10-11pm, maybe as late as midnight in spots. With the fluff of this snow, and some blowing, we were easily measuring a solid 4 inches.

All commercial parking lots were completed prior to 6am on Monday morning (3/13). All commercial sidewalks were shoveled and salted prior to 6am Monday morning. Any sand/salting held off to daytime hours of Monday, 3/13. No "openings" were required because of the timing of the snowfall allowed us to plow everything one time.
---
November
NOVEMBER 23RD : 2.5" (plowable snow)

On Tuesday, November 22nd, we had quite a mess on our hands if it were normal winter conditions. But, because of the warm air temps and warm surface temps, it basically rained most of the day, with some sleet and snow mixed in at times. Roads/driveways/parking lots stayed mainly wet. Once the evening hit, the rain transitioned to a period of solid sleet and this started to mess things up quite a bit now that the sun was going down or all the way down. Sleet accumulations were happening, and then by 8pm - it did turn to mostly snow at that point. This snow gradually did accumulate and last really through about midnight or 1am, but it did linger throughout the night - so we were unsure to the fact if we would receive anymore accumulation after midnight. But, with the temps hovering just above 32 degrees, things were really soupy and melty. It did snow at times after midnight, but everything we had plowed as new snow showers moved through, the snow was melting on contact thereafter because of the warm ground temps, and because of all the water on the surface.

So, safely, we did complete all commercial properties by about 7am that morning. We also completed all commercial shoveling/salting of sidewalks by very early that morning.

Sand/Salting of parking lots were not needed - no ice build up, just melting conditions all day on Wednesday, Nov 23rd after we had everything cleared.

No opening of parking lots was required due to the fact that the timing of the "accumulating" snow ending by about midnight / 1am - we were able to plow everything from curb to curb by morning.
---
---
December
---
SUNDAY, DECEMBER 4TH: C N'R DID NOT COMPLETE ANY SNOW WORK - EXPLANATION BELOW

Overnight Saturday into Sunday morning, we did have some snow move in. There was a micro-band or burst that occurred over mainly the Minnetonka area that created more snow than others. So, all in all, depending on where you live, we had about 1-3" of snow total accumulation. A lot of this melted on contact on hard surfaces, but enough accumulated "technically" in some areas where C N'R could have plowed. BUT - it was so melty and wet, plus temps forecasted that day (Sunday) were in the upper 30's - and last but not least, our ground temperatures are still very warm - we elected not to complete any snow work early that morning on Sunday, and it was the correct decision, because by noon at the latest, all the snow that did accumulate on hard surfaces did melt. Because it was not worth risking more damage on landscaped/grassy areas, plus more damage on tar/concrete, the decision not to plow was very helpful in this manner. Yes, when the hard surfaces are not frozen either, snow plow equipment can be very tough on cement, and especially tar. Again, no plowing, no sanding, no salting, no anything was required, and we just wanted to write about our reasoning right here.
---
THURSDAY, DECEMBER 8TH: Coating

The date above is really not accurate except for the fact that it is accurate as the day we did the work. There were many commercial properties that needed sand/salt mixture in the parking lots due to a pro-long off & on snow shower event that lasted (off and on) for about 48-60 hours. The snow was so dry and fluffy, it really did not amount to much. But, in higher traffic areas, cars were melting the little moisture there was and it was re-freezing. Around the noon hour on Thursday, December 8th - we did send our sand truck out to apply the sand/salt mixture. Sidewalks were good, and no work was required.
---
SUNDAY, DECEMBER 11TH : 7.0"
It actually started to snow VERY lightly on Saturday afternoon 12/10. As this was a well advertised storm, it was predicted to start snowing way ahead of the main low pressure system moving in from the Rockies. By about 8-9am on Saturday, we only had about 1" of snow on the ground. By midnight Saturday night - we had about 2" on the ground. You can see how slowly it was snowing. It was expected we would receive about 3-4" of snow, maybe 5" in spots. But, very early Sunday morning, things started to change as the storm track shifted north. This made for the heavier snow band to make it into the Twin Cities starting at about 3am. This did surprise us a bit, as we were still monitoring the situation the best we could. By about 4am, there was still only about 3" of snow on the ground. So, basically, it had snowed off and on for 12 hours and only produced 3" of total snowfall. Between about 3am and 7-8am on Sunday morning 12/11 - that is when another 4 inches fell in a 4 hour period. By 9am, we were sitting easily at about 7", and we are calling it a 7" plow although it did snow off and on all day long on Sunday. Probably, totals approached 8-9" in spots if you add it all together perfectly.

PLOWING? We did get trucks out by about 4am, just as that heavier band pushed in. So, whatever we plowed between about 4-7am, it did not look like we plowed it if you saw it at 10am that morning because another 4" of snow fall in about a 4 hour period. We were successful in opening all commercial properties first that were actually open and or had some traffic during the daytime on Sunday. This was completed by about 7am. Then, we did open up a lot of the same properties throughout the day once again to get that 3-4" of snow off the lots that fell while we were opening the lots. Some parking lots were plowed in full during the day that were not opened up, and a lot waited until nighttime on Sunday to get fully plowed.

SHOVELING? All commercial properties were shoveled TWO times between 4:30am early Sunday morning until early afternoon on Sunday - had to go through them 2x. Snow showers that were occurring off and on after the main band were messing up sidewalks after the fact, and we did our best to get them as cleared as possible, but that light snow slowly kept falling through about 6pm Sunday evening. Therefore, more shoveling and salting was completed the next day on Monday, December 12th to scrape up that half inch to an inch of snow that did fall through the day on Sunday. We had to properly rest our team members before completing this round of sidewalk shoveling and salting. So, all or most properties will be billed as shoveling/salting 3x during the event, although the last round was completed after the event.

SALTING? Salt was used heavily on sidewalks due to the fact of not having any salt out there yet, and also the fact that snow showers continued throughout the day - needed to melt that off.

SAND/SALT TO PARKING LOTS was applied the following Monday after some team members received some rest for safety reasons. We also pushed back some piles during the day on Monday, December 12th.
---
FRIDAY, DECEMBER 16TH : 6.0" (including the 1"+ that fell late Thursday night / early Friday morning, & including the windy conditions drifting the snow)

Another well-advertised snow storm was set to move in - Deja vu from last weekend - identical storm coming out of the Rockies. This one fell mostly on Friday, and last weekends fell mostly on Saturday - that was about the only difference. Very similar storm tracks, very similar swath of snow across southern MN. Way out ahead of the storm, we had warm advection snow that moved in very late Thursday night (12/15) and very very early Friday morning (12/16). This produced about 1" of snow. Because the rest of the storm was supposed to move in between noon and 3pm on Friday 12/16, no work was done with this first inch. Then, the main event really did not get going until about 3pm after a break - so a bit of time in between, but still, it was not worth servicing the first 1"+ that fell. We wanted to make sure our teams were resting appropriately prior to the main event. So, the accumulating snow lasted until about midnight, then we had off and on snow showers from midnight to about 3am (very early Saturday morning now, 12/17). Then from about 3am until 5am - another decent band of snow pushed through. Kind of a sloppy ending to the snow fall, but that is about how it ended - snow showers did persist until about 7am. All in all, we were measure right about 6" of snow including the first 1"+ that we did receive earlier Friday.
SNOW PLOW OPERATIONS? We opened up most lots during the late night and early morning hours of Friday/Saturday respectively. Some parking lots of businesses that were not open on Saturday were left to plow after 6am on Saturday. Then, because of the late band of snow that came through and because we started technically at 10pm Friday evening, we had to re-open many parking lots during the day on Saturday as well only if that particular business was open, or it was an apartment or TH complex. With the wind in the forecast and the way it was whipping around, by the end of Saturday, everything was cleared off "good enough" and because of the -20 degree temperature with Wind Chill Warnings in affect for Saturday night and Sunday morning, we decided to close down all operations until Sunday night to clean things off neatly before Monday morning. Also, the snow was still blowing around (especially off roof tops) - so we wanted everything to settle down before we plow things for a final time. A lot of commercial properties will be invoiced 2 openings, and 1 final plow. Some others less.

Shoveling/Salting of sidewalks was completed between 1am-6am Saturday morning, then some were re-done during the day on Saturday. Then, our shovel teams went back out to clear sidewalks and re-salt Sunday night before business hours Monday morning. The wind was messing sidewalks up from drifting snow, once again especially off roof-tops.

Sand/Salt mix was not applied until Monday, 12/19.
---
Friday, December 23rd : Rain/Snow turned to icy conditions

Through the day on Friday, a drizzle and snow mix fell through most of the day. The temps stayed mostly above freezing, so things really melted as they landed. But, it stayed very wet as the temps dropped. This caused plenty of icing. C N'R went out that night to sand/salt and salt all parking lots/sidewalks that are signed up for this particular service.
---
Monday, December 26th : More icing

As we all know, rain did fall all day on Christmas and into Christmas night (Sunday/Sunday night). Once the temps did fall that night dramatically, it froze all those puddles and residue moisture immediately and we sand/salted all parking lots, and salted all sidewalks in need. This was completed very early Monday morning 12/26.
---
Tuesday, December 27th : Freezing conditions

Not a huge deal, but because of the massive amount of icing through the last few days, there were some areas that needed more sand/salt in which we completed during the day on Tuesday, December 27th.
---
---
January
---
Monday, January 2nd : Freezing rain

Through the day on Monday, January 2nd - we received off and on freezing drizzle and some brief sleet and some snowflakes. But, most of the action was actually drizzle falling while it was 30 degrees out. During the evening of Sunday, that is when the thickest drizzle came through and iced things over pretty significantly. This all came to an end by midnight and we sent out our sanding and salting teams to complete all of this type of work during the very early morning hours of Tuesday, January 3rd. Of course, most of us adults were not working on Monday due to the holiday, and kids were out of school. All operations were completed by 6am Tuesday morning (1/3). Happy New Year!
---
Monday January 9th: 0.5" During the day on Monday, January 9th - very light snow moved into our area around 11am-noonish - lasted until about 4pmish give or take. This was a "warm advection" band of snow that developed out ahead of an area of low pressure. What this means is that warm are pushed in from the SW and rose up over the top of the cold dome that was in place. This made for light snow in the beginning with cooler temps, then the temps warmed up as it was snowing, so things compacted. With this said, we could really only measure about a half inch of snow most places. We did get a 0.7" measurement on the far southern tip of our accounts, but nothing was at an inch of snow.
THE FORECAST after this snow stopped? More snow coming in by 6-8am the next morning which was Tuesday, January 10th. At time of writing this summary, this was the actual forecast. We did clear all commercial sidewalks and applied heavy salt (things were slippery!). We did not plow parking lots for 2 reasons. #1 - there was just not an inch of snow which is our contract threshold. #2 - it was going to start snowing by sunrise the next day again. Also, the snow that did fall on Monday 1/9 compacted and the parking lots were driven on during the afternoon and compacted the snow more. We did apply our sand/salt mix to those of your that were signed up for this. All of these services occurred between about 6pm and midnight on Monday 1/9 evening.
---
Tuesday, January 10th : 2.0"

Mixed precip at the on-set moved in during the very early morning hours of Tuesday, January 10th. This quickly changed over to snow and it fell all the way until 2pm. At 11am, we started to open commercial parking lots and this was completed before 3pm. A final plow from curb to curb was completed the following night. Winds were gusty once the snow stopped and did blow snow into parking lots and onto sidewalks once again. Our shovel crews went through our sidewalk shoveling route 1x during the day, but we did not return that night in anticipation of more snow moving in the next day. So, we did not get everything perfect as far as shoveling is concerned overnight. Salt was used at times, but sparingly. We wanted to wait to see if this next snowfall does occur or not. If it does occur, at that time we would go through our route one more time on Wednesday after the snow is done falling - touch up everything and salt everything. If it did not snow, we were still planning on going out one more time during the day on Wednesday to touch things up.
Sand/Salt held off until after the next snowfall on Wednesday (if it happened). If that snowfall did not happen, then we were going to send out our sand/salt truck Wednesday afternoon to get this service completed then. Kind of a messy situation with lots of small chances at snow over a few day period. Bottom line, we were trying to keep up with the snowfall, plus get proper rest before the next forecasted snowfall.
---
Wednesday, January 11th : 2.0"
Seems like a broken record here with this snow operations summary. We have had snowfall over the last 3 out of 4 days technically - and it has been a busy one. Sunday evening (1/8) into Monday morning (1/9) - we had about 1/2" of snow or so. Then on Tuesday morning (1/10), we had another 2-3" of snow. Then, 24 hours later (Wed 1/11) we had another 2-3" of snow. And the Wed 1/11 event is the one we are writing about right now.
Light snow moved in just before day break on Wednesday 1/11 - it was very light to begin with, then there was a small lull, then a couple stronger bands of snow moved through during the morning hours. The "accumulating" snow ended at about 11am / 1130amish - we had some trucks out prior to 11:30am to open all properties, and runways and docks were opened by 2pm at the latest.
Curb to Curb plowing was completed overnight once again.
Shoveling/salting of sidewalks was completed by about 3pm that day.
Sand/Salt truck did not go out until the following day (Thursday, 1/12) due to this driver getting proper rest before heading out. Safety first!
---
Monday, January 16th : FRZ Rain
Freezing rain moved in during the evening hours of Monday, January 16th. This lasted until the very early morning hours of Tuesday, January 17th. Ice is nobody's friend, and we had plenty of it. This batch of freezing rain moved in slowly from the south and cut the Twin Cities in half as we were on the northern fringe.
C N'R sanding and salting team members worked through the night/and early morning to apply the sand/salt mix and/or straight salt as needed.
---
Tuesday, January 17th : Slushy plow

Due to the freezing rain that occurred on Monday night (1/16) that switched over the wet snow very early Tuesday morning (1/17), the combination of those 2 elements caused some slushy accumulations. All the packed down snow on parking lots with this on top of it brook up during the day on Tuesday (1/17). Plus any sand/salt that is mixing in is breaking it up during the day, and parking lots got messy. With the fact that some customers called to get their parking lots scraped up overnight Tuesday night 1/17 - we then decided that it was appropriate to have all the properties we take care of shaved up as best we can with our heaviest plows. This occurred after 7pm on Tuesday, 1/17 and lasted no later than midnight that night.
---
Wednesday, January 25th : 2.0"

C N'R snow plow trucks started to open up commercial parking lots at about 5:30am-6:00am. You might ask why we did not start earlier? Well, at 3-4am, there was only about a half inch of snow at that time, so we called our trucks out as soon as we could where it made the most sense. Commercial lots were opened up 1x through by 10am that morning at the latest.

Shoveling of sidewalks and salting of sidewalks started at about 10am. It made more sense to delay the shoveling crews so they were able to get most of the snow cleared away for the days worth of business. Our first and only round of "daytime" shoveling/salting was finished by about 3pm at the latest.

SAND/SALT mix was applied very early morning hours of the next day (Thursday, 1/26).

Curb to Curb plowing took place starting at 10pm that night (1/25) and into the very early morning hours of (1/26)
---
Monday, January 30th : 0.2"

Another warm advection band of snow pushed through ahead of a clipper system. The heavier snow amounts stayed North and East of us in the deformation band, but as the warm front pushed through our area, this snow developed at about 6am, and lasted until 8-9am on Monday morning (1/30). Just in time for the morning commute. This snow fell at temps at about 25 degrees, so it was slippery perfection! Very slippery out there. By the time 3pm came that afternoon, it all melted because temps rose to around 40 degrees. But, we at C N'R had to take care of the morning slipperiness out there and sent out our team to completed salting and sand/salting between about 9am and noon. It was very needed at that time.
---
---
---
February
---
Tuesday, February 7th : Ice

Late during the night Monday (2/6) and into very early morning of Tuesday (2/7) - we had an area of freezing drizzle develop. Was not too bad, but we checked on all the properties we take care of that require sand/salt responsibilities and ended up applying some sand/salt mixture to some properties. This took place during the morning hours of Tuesday (2/7).
---
---
---
March
Wednesday, March 1st : Coating of snow

With a coating of snow overnight and into very early Wednesday morning (3/1) - we did go out to shovel/salt commercial sidewalks. This was completed between about 7am-11am on Wed morning (3/1).
---
Sunday, March 12th : 4.0"

A strong Alberta Clipper expectedly rolled in during the afternoon on Sunday (3/12). Right on schedule as the models were suggesting. It arrived at about 2-3pm in the afternoon, and all the noteworthy accumulations ended by about 10-11pm, maybe as late as midnight in spots. With the fluff of this snow, and some blowing, we were easily measuring a solid 4 inches.

All commercial parking lots were completed prior to 6am on Monday morning (3/13). All commercial sidewalks were shoveled and salted prior to 6am Monday morning. Any sand/salting held off to daytime hours of Monday, 3/13. No "openings" were required because of the timing of the snowfall allowed us to plow everything one time.
---
---
---
april
---
---
---
---